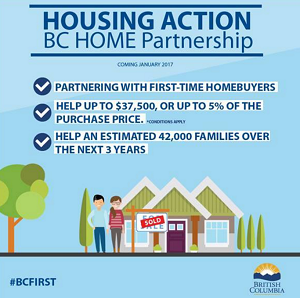 Effective January 16, 2017 – the new BC Home Owner Mortgage and Equity Partnership program contributes to the amount first-time homebuyers have already saved for their down payment, providing up to $37,500, or up to 5% of the purchase price, with a 25-year loan that is interest-free and payment-free for the first five years.
The BC Government will lend first-time homebuyers up to 5% of the purchase price to use as a downpayment to a maximum of $37,500. For the first 5 years, the loan is interest-free and re-payments don't start until year 6.
Key points:
• First time home buyers only
• Must be used as Principal residence for 5 years i.e. no rentals
• Purchase price under $750,000
• Must be a CMHC insured mortgage i.e. downpayment less than 20%
• The BC loan will go in 2nd position on title
• Must have a mortgage pre approval in place
• Annual combined income of applicants cannot exceed $150,000
• Have saved a downpayment amount at least equal to the loan amount for which the buyer applied
Through the B.C. HOME Partnership program, the Province is investing about $703 million over the next three years to help an estimated 42,000 B.C. households enter the market for the first time.
"The first step into the market can be the hardest step, so our government will partner with homebuyers to help them achieve their minimum down payment," said Rich Coleman, Minister of Natural Gas Development and Minister Responsible for Housing. "This partnership can help lower their monthly costs in the first five years, and help make home ownership more affordable. This partnership program is another important way we're taking action on housing affordability."
During the first five years, no monthly interest or principal payments are required as long as the home remains the homebuyer's principal residence. After the first five years, homebuyers begin making monthly payments at current interest rates. Homebuyers will repay the loan over the remaining 20 years, but may make extra payments or repay it in full at any time without penalty. The loan must be repaid in full when the home is sold or transfered to another owner.
To be eligible, buyers must be preapproved for an insured high-ratio first mortgage (mortgage down payment is less than 20% of the home price). On completion of the sale, program funds will be advanced and the loan will be registered as a second mortgage on the property's title.
Other programs are available to help first-time buyers save on property transfer tax. The First Time Home Buyers Program can save first-time buyers up to $7,500 when purchasing a home valued up to $475,000. Or, first-time buyers can access the Newly Built Homes Exemption, which can save buyers up to $13,000 in property transfer tax when purchasing a newly constructed or subdivided home worth up to $750,000.
The B.C. Home Owner Mortgage and Equity Partnership program will start accepting applications Jan. 16, 2017.
Learn More:
Learn how to apply: https://news.gov.bc.ca/files/Housing_Campaign_HOME.pdf
To learn more about the Province's actions on housing affordability, visit: http://housingaction.gov.bc.ca/
For additional details about the B.C. Home Owner Mortgage and Equity Partnership program, please visit: https://homeownerservices.bchousing.org/
B.C. Home Owner Mortgage and Equity Partnership program, BC Housing:
Phone:  604 439-4727
Toll Free Number:  1 844 365-4727