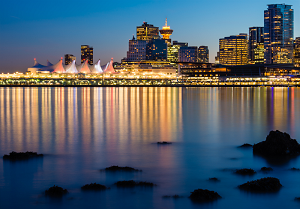 When investing in real estate, the basics are still true – location, location, location. You can change the look and feel of a real estate investment property, but you can't change the location…and waterfront is the best location of all.
Another thing we've learned through our years of experience in real estate is that it's never too late. My husband and I were 50 years old before we picked up our first waterfront property and it's been a "home run" investment for us.
Yes, affordable waterfront real estate can still be found in Vancouver and on the Island.
Surprisingly, with a budget of $400K to $1M, you can still buy urban waterfront and semi-waterfront real estate in Vancouver's False Creek, Yaletown, West End and English Bay areas. For example, our real estate team recently sold a spectacular False Creek waterfront 1300SF townhouse with unobstructed city and water views for $939K, a charming 1400SF semi-oceanfront townhouse on a cobbled pedestrian path leading to the water for $730K, a stylishly renovated one-bedroom plus den condo with 200 SF private waterfront patio for $568k, and a completely-remodeled one bedroom apartment with a wonderful view of English Bay for only $319K.
Under $400K, you can pick up a 3-bedroom lakefront cabin on Horne Lake near Qualicum on Vancouver Island, or a one bedroom lakefront condo can be found on the edge of Whistler's Alta Lake walking distance to the village and golf course.
Under $300K, you can still buy semi-waterfront land on Vancouver Island. We recently sold a beautiful water-view building lot right across a quiet road from the ocean, and just 20 minutes south of Nanaimo, for $242K. The buyers plan to put a trailer on it for a few years, before building their dream home.
Of course, luxury waterfront properties are also available. For those who dream of ocean vistas, fresh sea air, and seals sleeping on your own private beach, we have three new exclusive listings to make your toes curl.
For $5M you can have a breathtaking oceanfront, award-winning, 6,000SF dream home designed by famous architect Brian Hemingway, located on over an acre of private wooded waterfront property near Nanaimo on Vancouver Island. This unique retreat, nestled among gorgeous pine and arbutus trees, looks out to the Gulf of Georgia and offers a walk-on 200-foot wide, south-facing, private beach, including rare foreshore ownership.
For $3.5M you can purchase a just-listed Qualicum Beach seaside Inn on .646 acres of oceanfront, including a quaint 21-room hotel, café, and 350-foot beach frontage with plenty of additional waterfront property for further development. This is an amazing opportunity for an owner-operator, investor, or developer.
For $1.4M (or 700K each) you can purchase TWO side-by-side gorgeous oceanfront low-bank building lots in Nanoose Bay on Vancouver Island just down the street from Diana Krall's and Elton John's summer homes.
Our team is ranked in the top 10% of Greater Vancouver realtors and we sell lots of waterfront properties in Vancouver and on Vancouver Island. Please don't hesitate to contact us if you want to chat about buying or selling these or any other waterfront real estate in Vancouver or Vancouver Island.
Article written by Annette Saliken, YourHomeTeam with Sutton Westcoast Realty ~ July 2015