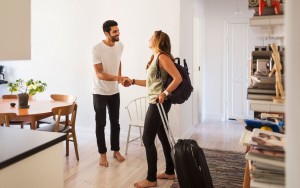 Vancouver city staff presented a proposed regulatory framework to city council this week that would move the city closer to legalizing short-term rentals, such as those booked through sites like Airbnb and HomeAway.
Under the proposed rules, short-term rentals – defined as those shorter than 30 days – would be allowed in the principal residences of both renters and owners. The principal residence is defined as where someone lives most of the year, receives government mail and pays bills.
Current laws prohibit short-term rentals in Vancouver, but there are almost 6,000 such rentals operating illegally. City staff said the proposed regulations would allow about 70-80% of those units to operate legally.
"We received a lot of feedback that reflected both the positive impacts and the serious challenges associated with short-term rentals," said Kaye Krishna, general manager of development, buildings and licensing at the City of Vancouver. "A lot of residents are concerned about noise, safety and security, while others – homeowners and renters alike – told us they rely on the extra income to support their families and offset their cost of living."
Krishna said in developing the proposed rules, staff took into account the increasing difficulty of finding long-term rental units in Vancouver. Short-term rentals would not be permitted in any properties that could support long-term rentals, such as basement suites, laneway homes or investment units. Owners of those properties could rent those units for 30 days or more, provided they obtain the adequate business licence as required for hotels, bed and breakfasts and long-term rentals.
"We've seen evidence from other cities that short-term rentals not only take away from the long-term supply, but put upward pressures on rents," she said. "We feel the proposed regulations will protect long-term rental supply while enabling supplemental income for residents."
Vancouver City Council will consider the regulations this autumn. The city plans to hold a public hearing about the regulations; details on the date and location will be posted when they are set at vancouver.ca/short-term-rentals.
Staff has proposed that the rules come into effect in spring 2018. Until that time, short-term rentals remain illegal.
*Article published in Business in Vancouver | July 13, 2017, 9:19am